While catching up on my daily blog reads yesterday... I found out that Laurie gave me an award - Thank you so much Laurie! This is my very first Blog award:)
I am very honored that you have passed it on to me!
So now I get to pass it on to 10 blogs that I enjoy reading and bring a smile to my face. I read many, many blogs and I LOVE all of them or they would not be in my bloglines. There are some that make laugh quite often though... So here they are In no particular order:
I Was Knit Together In My Mother's Womb
I also went through a LUCKY STREAK at the beginning of January --so I want to give a hearty THANK YOU to the following people:
I would like to thank Cara from January one for selecting my entry from her Very Colorful Contest. As you all know if you read Cara's blog she is an amazing photogropher and she uses her talent to take pictures of her beautiful hand knits. Cara also has been know to utilize her hand knit photos to create gorgeous note cards! Well her last creation got featured in the Winter issue of Vogue that focused on color!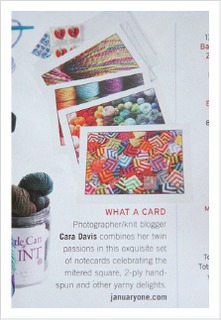 Cara held a contest where she asked us to tell her what our favorite color was and why. I entered with the color Yellow and won one of the grand prizes! A gift certificate to the Loopy Ewe! Woohoo!!!
Then last week, the Anne of Green Gables KAL had a grand prize contest for the the knitted piece that was most closely tied to the sentiment and theme of the Anne of Green Gables book series. This was a read/kal and Caitlin held various contests throughout the 3 or so months that it ran. I entered My Shetland Shawl aka "Marilla's Amethyst Shawl" and Caitlin anounced Wednesday that I won the Grand Prize! Yay!
Look at this awesome Tote! Its so me!!!
Oh and check out what was inside: Some really nice blue and mauve yarn and a Nostepinne that was made at Caitlin's Crescent Knits ETSY shop. In case you don't know.. a Nostepinne is a tool that is used to wind your yarn into a center pull ball
As for knitting, I have finished one of my sueded slippers and I am almost done with DHs first slipper. While these are fun to make and quick and easy...
I need to divert my attention to the 2 Baby Sets for now as I just found out that Both baby showers are the week of February 19th! Yikes! How did that happen?
Here is a better picture of the set :
I am working on the back of the blue cardigan now and I do hope it moves along quickly so that I can get back to my selfish knitting:)